Another year, another 'Best of…' list. It's hard to comprehend that this will be my last post of 2020 – I still remember writing the 2019 version – but we're here, and these lists still never get any easier to compile. When writing this, I'm struck by how many of the books mentioned I read during the first half of the year. Clearly my reading went downhill as the months dragged on so, hopefully, 2021 will be better in this regard.
As always, the books mentioned are ones I read for the first time in 2020; they weren't necessarily published this year. Also no rereads are included in the list. But, without further ado, let's get into my top 10 books:
10. A Thousand Ships by Natalie Haynes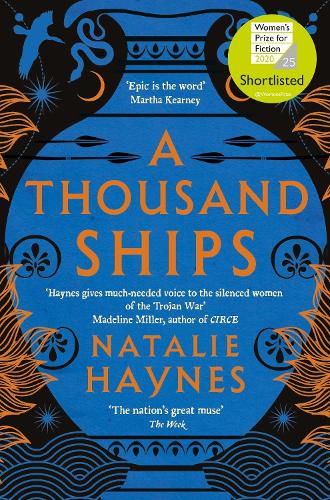 Kicking off the list is Natalie Haynes' second novel, the Women's Prize-shortlisted A Thousand Ships. The novel is a series of interconnected stories, all told by the women involved in the Trojan War. We have both Trojan and Greek women, plus the goddesses, telling their different experiences of war. What surprised me the most about A Thousand Ships was just how funny it was. Penelope's increasingly exasperated letters to a still missing Odysseus were very witty and helped to stop the novel becoming relentless. They were (admittedly brief) tonics in what is quite a dark story. The novel has also been very cleverly constructed, and I was left impressed by how Haynes jumps between the different women. Even if you know little of the Trojan War, I think A Thousand Ships is still an excellent novel, giving women a voice in a traditionally male-dominated narrative.
9. Perfume: The Story of a Murderer by Patrick Suskind
Perfume is a strange, compelling novel which still lingers long after the conclusion. We follow the live of Jean-Baptiste Grenouille, a man who is born with an incredible sense of smell and whose obsession with scent leads him to commit murders. It is a cleverly constructed novel, keeping the reader at a distance the same way Grenouille is separated from society; despite having a third person narrator you feel like you know the main character, you know his thoughts and feelings. Despite being a horrible person, it is hard to stop reading about him; he's such a compelling character. It is obvious why Perfume has received the vast amount of praise it has.
8. My Brilliant Friend by Elena Ferrante
I'm sure everyone and their mother knows about My Brilliant Friend, the first book in Elena Ferrante's Neapolitian Novels. Here, we are introduced to best friends Elena and Lila who grew up in a poor neighbourhood in Naples. We watch them grow up, navigate school, have their first crushes, and become young adults. Child characters can be a bit hit or miss for me, mainly because I find some authors make them sound too adult to be believable. This wasn't the case here, and I really liked how Ferrante developed the girls' friendship. It felt very true to life. She also balances the innocence of childhood with the simmering violence that always lingers in this neighbourhood, and which occasionally comes to the fore. I can see why people might not like My Brilliant Friend, but I found it a great book, and I can't wait to see how Elena and Lila's friendship develops in the following novels.
7. Who Do You Serve, Who Do You Protect? ed. by Maya Schenwar, Joe Macare, Alana Yu-Lan Price
The first non-fiction on this list, Who Do You Serve, Who Do You Protect? is a collection of essays looking at policing in America and, specifically, police violence against black and indigenous communities. This was a very harrowing, heart-wrenching read yet deeply informative and, sadly, still necessary. Each essay or report tackles a different angle of police violence, for example, how pregnant women are treated in custody. There were different aspects to police violence I hadn't considered before, and this book helped shine a light on these issues. The historical background a lot of the authors give also provides more context for their arguments. and is a fascinating glimpse into the history of American policing. Yet, as well as highlighting problems, there is a section in the collection that provides solutions. It provides a glimmer of hope that things can and will improve. If you want to know more about police violence, then Who Do You Serve, Who Do You Protect? is a great place to start.
6. The Five by Hallie Rubenhold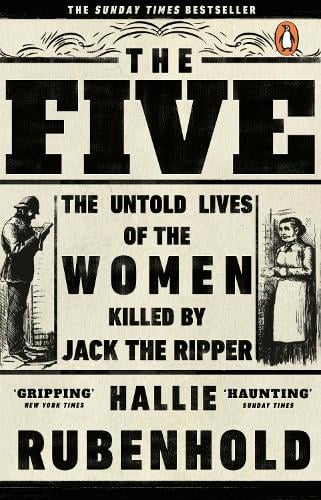 Given its popularity this year, many will know The Five is Hallie Rubenhold's biography of the five canonical Ripper victims. Through exploring their lives, Rubenhold also dives into life in Victorian London in general as we witness these women traverse different aspects of society. She also debunks some Jack the Ripper myths that have lived for decades, especially the idea that his victims were prostitutes. At times it is a very grim, saddening read, especially knowing the womens' fates. Yet Rubenhold's book is always interesting, and the amount of research she has done is incredible, that you can't help but read on. This is one for people interested in Victorian society, as well as those fascinated by the Ripper case.
5. How We Disappeared by Jing-Jing Lee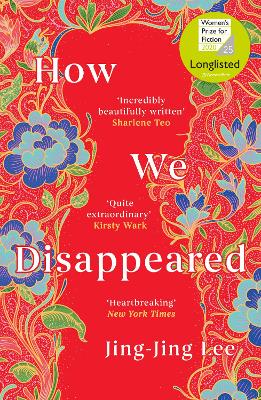 Longlisted for the Women's Prize for Fiction, How We Disappeared is a beautiful, haunting work set in Singapore during the Second World War. Our two protagonists are Wang Di, who was a teenager when Japan invaded the island, and Kevin, who lives in modern day Singapore when he discovers a secret his grandma has hidden for years. Both their stories collide in this poignant novel. Lee doesn't shy away from the darker aspects of the war – some scenes are particularly uncomfortable to read – and highlights the experience of women both during and after wartime. Yet the book is also beautifully written; evocative of time and place and successfully capturing war torn Singapore. I'm sad this never made the shortlist as I think it is a great debut novel.
4. The Discomfort of Evening by Marieke Lucas Rijnveld
Rijnveld's novel, which follows young girl Jas a year after the death of her older, is both hauntingly beautiful and deeply disturbing. It is clear they are a poet – the language is very lyrical and evocative, capturing this family's grief and their various ways of coping. Also I think Jas' character is wonderfully drawn. She is a strange, superstitious child whose behaviour – like her other siblings' – becomes increasingly worrying. Yet you can't help but be drawn to her; there's something strangely compelling. You root for her to succeed in her plans, and the final chapter is devastating. The Discomfort of Evening won't be for everyone; the subject matter can be disturbing and the characters are not necessarily likeable. But I found it a very rich, bewitching read and I can see why it won the International Booker.
3. The Cut Out Girl by Bart Van Es
Van Es' memoir/family history follows a young girl Lien as she moves from family to family during the Nazi Occupation of the Netherlands. She stays with Van Es' family, and though she claims to have liked it there, a spat with his grandmother meant she ceased all contact with them. Van Es sets out on a journey to discover why. The book cleverly flits between the 1940s and the present day, where we see Van Es visiting locations Lien mentions and discussing issues in the Netherlands now. This helps make The Cut Out Girl a very timely read; what it mentions is incredibly relevant to today and comparisons can be made to different countries. It won the Costa Book of the Year in 2018 and it thoroughly deserved it; it is a very powerful read.
2. Hamnet by Maggie O'Farrell
Like The Discomfort of Evening, Hamnet is another novel tackling the subject of grief. Instead, O'Farrell's prize-winning novel focuses on the death of William Shakespeare's only son. Our main character is the boy's mother, Agnes, as she struggles to come to terms with what has happened. Hamnet is beautifully written. O'Farrell has a remarkable way with words; her imagery is clever, original and evocative. The very vivid descriptions of the landscape and surrounding were particularly stunning. It was very easy just to dive into this world. I also enjoyed how O'Farrell focused on Agnes, a woman who is normally shunned to footnotes in favour of her more famous husband. O'Farrell imagines what her life was like, and gives her a new lease of life. She was a very engaging character that you could easily root for. You don't need to have read Shakespeare to enjoy Hamnet. A brilliant novel.
The Radium Girls by Kate Moore
Is it a bad thing that the very first book I reviewed this year happens to be the best one? That's what happened to Kate Moore's The Radium Girls, which follows two sets of factory workers in the US. Their job is to paint clocks, dials, etc with radium paint, and their practice of pointing their brushes with their mouths eventually causes them to become seriously ill. Determined to seek justice, they sue their employers who refuse to acknowledge radium as harmful. This was such a riveting read: despite being a nonfiction, at time it read like a courtroom drama or thriller. Some of the chapters ended on twists that I wasn't expecting. Moore effortlessly explains the events and breaks down the medical and legal jargon, making the book very accessible. Yet the girls themselves always remain at the heart of the book. You get to know them; their personalities, aspirations, and hopes and really care for them and their plight.  An absolutely fantastic book, and one I recommend to everyone.
And there we have it – my top 10 books of 2020! Let me know in the comments if you've read any of these, and I will see you in January 2021 for more reviews.