It's hard to imagine that this is the penultimate monthly round up of 2020; that the next time I write one of these, my top books and films of the year will be released. I'm already thinking of those lists and who is going to make the cut, but before I properly start to panic, here's what I read in November:
I have really been enjoying my poetry collections as of late, so I'm not surprised they dominate last month's reading. Though for someone who was really keen to join in Non-Fiction November, I've successfully managed to not read a single non-fiction book in November. Whoops! Bad book blogger! Thursday's post is a non-fiction review, however, so I may redeem myself a little…maybe.
Whilst I may have been neglecting my non-fiction reading, November has been a great month for films. With both the Catalan and French Film Festivals happening, I've been spoilt for choice. I've already mentioned my top 5 short films of the Catalan Film Fest, but here is the feature length movies that have graced my big (and small) screens:
Films Watched in November 2020
Wolfwalkers (dirs: Tomm Moore, Ross Stewart)
Robyn (voiced by Honor Kneafsey) is a young, wannabe hunter living in Kilkenny, Ireland with her father Bill (Sean Bean). Bill is a hunter employed by the Lord Protector (Simon McBurney) to rid the nearby forest of wolves so the land may be used for farming. Defying her father's orders, one night Robyn sneaks off into the woods and meets Mebh (Eva Whittaker), a member of the magical, shape-shifting wolfwalkers. The two girls quickly become friends, and set off to find Mebh's missing mother. Wolfwalkers is one of the most visually stunning films of 2020. The loose line work helps to create a very nostalgic feel – one is reminded of the animated films from childhood. There is something quite rough and ready about the artwork, making it all the more personal and intimate. The polished look of Disney and Pixar is nowhere to be seen, and the film benefits from that. Whilst I agree with some critics' assertion that the film's tone is uneven, it didn't really affect my enjoyment. The fun plot, the serious environmental message, and the gorgeous visuals more than made up for any problems with tone. Definitely one for animation lovers.
How to be a Good Wife (dir: Martin Provost)
It is 1967 and Paulette Van Der Beck (Juliette Binoche) runs a school for good housekeeping with husband Robert (Francois Berleand) and sister-in-law Gilberte (Yolande Moreau). When Robert dies unexpectedly, Paulette is left to take charge of the school and its unruly pupils. However, revolution is around the corner, and the girls might have other ideas that simply being housewives… Binoche is excellent as always as Paulette, a woman who is forced to take control of both the school and herself. Her friendships with both Gilberte and nun/teacher Marie-Therese (Noemie Lvovsky) were really entertaining to watch, and all three stars had great chemistry. I also really enjoyed the subplots involving some of the pupils, and the young actresses definitely excelled in their roles. However, the ending was a bit disappointing. I felt there were a couple of loose ends which was frustrating, and the musical number was downright bizarre. It's a pity, as the film had the right balance of humour and drama until this point, when it becomes just plain baffling. If you're a fan of Binoche, then you may like How to Be a Good Wife. It's not a perfect film by any means, but it is a fun, breezy couple of hours.
My Mexican Bretzel (dir: Nuria Giménez)
Spanning two decades, My Mexican Bretzel tells the story of Vivian and Leon Barrett. Combining extracts from Vivian's diary and footage filmed by Leon across the years, the film is an intimate look at the Barrett's' marriage. My Mexican Bretzel is a thought-provoking, fascinating film, and I loved every second of it. Giménez brilliantly blurs the line between fact and fiction, an idea which becomes more layered the more it is ruminated on. There is the suggestion of filmmaking as a way of blurring or distorting reality – intentionally or not. Also, why do we film certain things but not others? How do people choose what gets to be recorded and viewed? These sorts of questions don't necessarily have to be strictly about film, but all artistic mediums. The attempt to control life, which is uncontrollable. Yet this idea can be expanded even further, questioning memory and whether what we remember is accurate or not. The fact that the audience never hears any dialogue, we never hear what the people onscreen are saying, helps add to this blurring. We're left to make it up ourselves. My Mexican Bretzel is a voyeuristic film, tackling the distinction between reality and fantasy. It asks more questions than it answers, and is one that I will be thinking of weeks afterwards.
Jaume Plensa: Can You Hear Me? (dir: Pedro Ballesteros)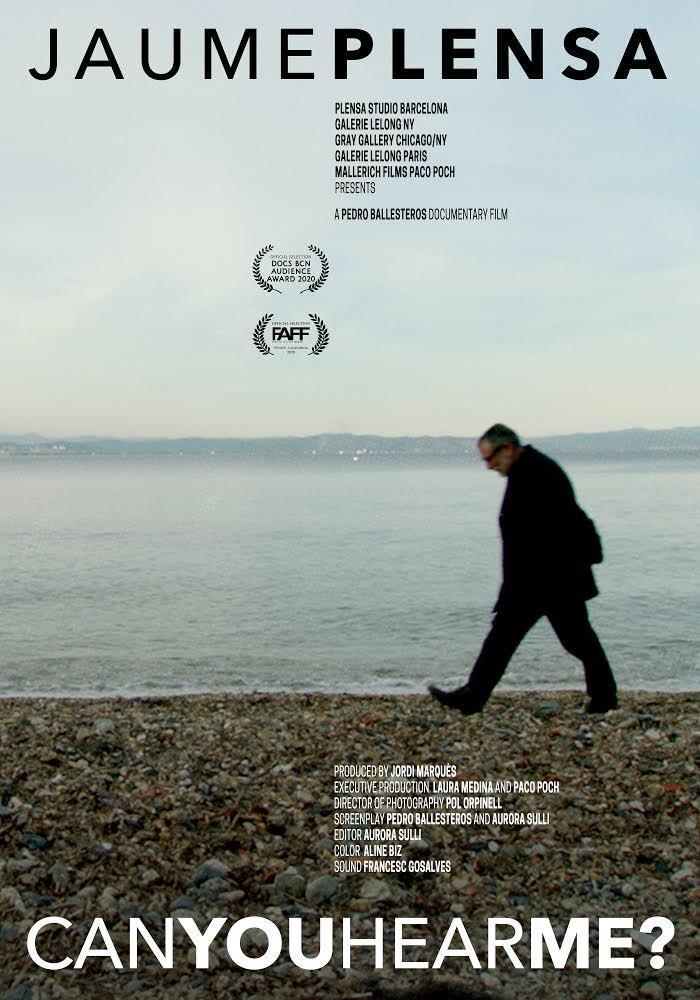 The final film of November is the documentary Can You Hear Me? The film is centred on the famous sculptor Jaume Plensa who, at the beginning, is working on his project 'Voices' which is to be exhibited in the lobby of 30 Hudson Yards, New York City. Ballesteros also looks back at some of Plensa's previous work. Can You Hear Me? feels very much like a tribute to public art in all its forms. Whilst Ballesteros is tackling one artist, it seems to celebrate art and how it shapes public spaces. Plensa himself is a fascinating man, and is incredibly candid about his work here. It was interesting listening to him speak about his art and the effects he was trying to achieve with different pieces. I could've listened to him for hours his process was so captivating. Given that it is discussing art, it is no surprise the film is a visual feast itself. A lot of the city shots were beautifully photographed and really captured the vibe of the different locations. If you're a fan of Agnes Varda's Faces Places then I think you'll really enjoy Can You Hear Me? Both tackle the relationship between art and public spaces brilliantly.